Letošnja sezona bo očitno pri meni zelo tako ...... preprosta. Za danes veliko bele, velikost voščilnice pa 13,5x13,5 cm.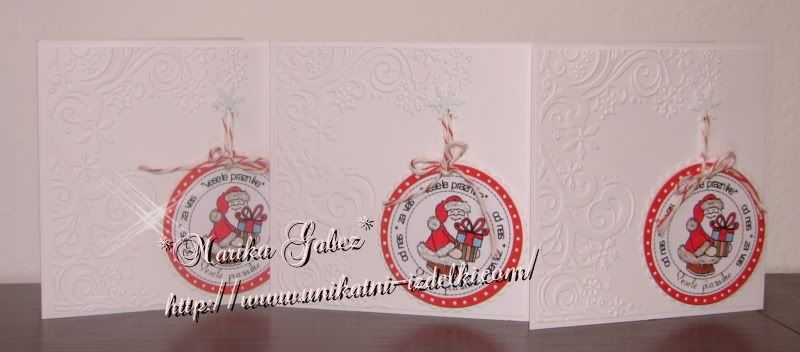 tudi te(ali pač eno od njih) prijavljam na izziv pri
christmas ispirations
, kjer je tema clean and simple. pač samo eden od blogov z izzivi, vendar pa je zanimivo, kako tu sprotno "popravljajo" napačno prijavljene izdelke. to sem prvič videla. In zaradi teksta jo prav lahko prijavim tudi na
abc christmas challenge
.
tole postavitev sem si nekoč, že dolgo nazaj shranila in dolgo ne vedela, kaj naj iz nje izvlečem. Sedaj pri novoletnih pa je ideja kar sama od sebe prišla, saj se bodo ravno krogi pri meni letos kar nekaj pojavljali. tako je pač to .... prej nisem imela napravice za rezanje krogov.